Shadowline - Masonry
 20% OFF SALE!
Whether starting a new-build or planning a renovation, this fully-integrated ceiling rail system is sleek and professional, leaving walls clean and free from damage. Available to use with either masonry walls or plasterboard walls and ceiling panels, this system disappears into the ceiling, creating a subtle shadowline effect. Used in conjunction with 1mm nylon hangers, this is our most discreet hanging system yet.
Installation Video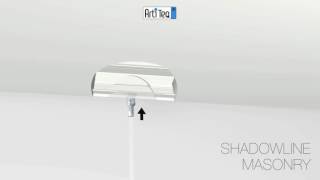 Features
Comes in 250cm lengths.
For use with Masonry walls.
Built-in. Installed at the same time as a recessed ceiling.
Disappears into the shadowline created between the wall and ceiling panels.
Create your starter pack
it's quick and easy
Sale!
1mm Twister Micro Hanger Kit
Hanger sets come with 2 hangers and 2 hooks. We always recommend using 2 hangers per picture.
2 materials to choose from: perlon (almost invisible against wall) or steel (for a more industrial look)
Twister head slides, twists and locks into rail and can be moved without falling out.
Micro grip hook has easy squeeze and slide mechanism and locks onto hanger when released.
Hangers come in standard 200cm lengths.
From $20.91 – $31.33 incl. GST
Buy 10 or more and receive a 10% discount.