Display IT Art Hanging Kits
Display It art hanging kits are a presentation system that allows you to showcase documents, posters or photos in a fun and eye-catching way. It is possible to combine frames of different sizes and create a sleek photo wall using the Display It Economy sets. The Display It system can either be wall mounted or hung on our flexible picture hanging rails.
Installation Video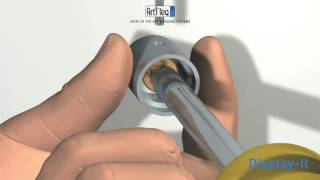 Features
Economy sets come in three sizes: A3 (4 x horizontal acrylic holders, 4 x e-clips per holder, 2 x steel cables), A4 (4 x vertical holders, 4 x e-clips per holder, 2 x cables) and A6 (6 x horizontal holders, 2 x e-clips per holder, 2 x cables).
The E-clip allows you to change pieces quickly and easily and link extra columns without tools.
Acrylic holders can be linked either vertically or horizontally, allowing countless combinations.
Can be tensioned between surfaces with the addition of a Flex Tension Cable Set or a Fixed Tension Cable Set.
For displaying oversize pieces or mounts between 3-6mm thick, try our Display It Solo kit.
Create your starter pack
it's quick and easy