Ceiling Strip
This picture hanging rail is fully integrated into the cornice when installing a recessed ceiling. The Ceiling Strip replaces the corner profile and creates a discreet shadowline along the edge of the recessed ceiling where the flexible picture hanging system is hidden. This shadowline can camouflage any imperfections in the wall, such as those masked by a side strip, and also hides the Twister heads of the hangers.
Installation Video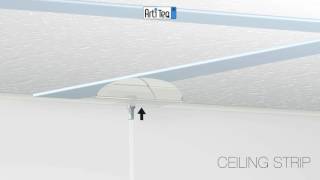 Features
Comes in 300cm lengths.
For use with plasterboard or masonry walls.
Built-in. Installed at the same time as a recessed ceiling.
• Discreet – Creates a shadowline in which the hanging system is hidden.
Strong – Weight capacity of up to 50kg/metre.
Create your starter pack
it's quick and easy
Sale!
1mm Twister Micro Hanger Kit
Hanger sets come with 2 hangers and 2 hooks. We always recommend using 2 hangers per picture.
2 materials to choose from: perlon (almost invisible against wall) or steel (for a more industrial look)
Twister head slides, twists and locks into rail and can be moved without falling out.
Micro grip hook has easy squeeze and slide mechanism and locks onto hanger when released.
Hangers come in standard 200cm lengths.
From $20.91 – $31.33 incl. GST
Buy 10 or more and receive a 10% discount.